Discovery Academy Awarded Bronze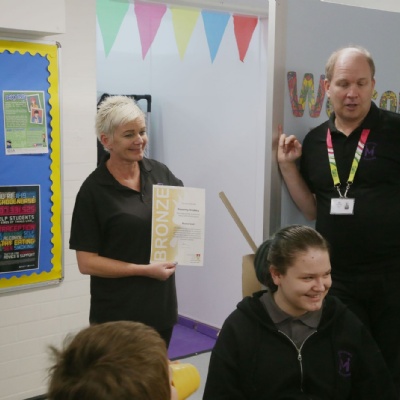 Discovery Academy becomes first specialist school in Warwickshire to get Bronze Young Carers' Award!
We are delighted to announce that Discovery Academy has received the Warwickshire Young Carers' Bronze Award. Discovery currently has 8 young carers who gather once a month to chat, play games and be free to express themselves with other children who are in similar situations.
As a young carer, they not only have to manage school life but they have the added responsibility of looking after a parent, sibling or other family member at home.
Amy Agnew from Warwickshire Young Carers presented the award to Tiffany who has been working closely with the initiative and has put in a lot of hard work which led to them receiving the Bronze Award.
Tiffany said – "It's a wonderful achievement but now we are setting our sights on the Silver Award."
The award recognises the support systems that the school has put in place to make life a little easier for these youngsters. Students have been provided with information for them to access support services outside of school, including the Young Carers Club at The Gap Centre.
Amy said "Discovery has gone above and beyond to develop the provision in order to suit the children in your school."