New Outdoor Learning Zone Opens at Discovery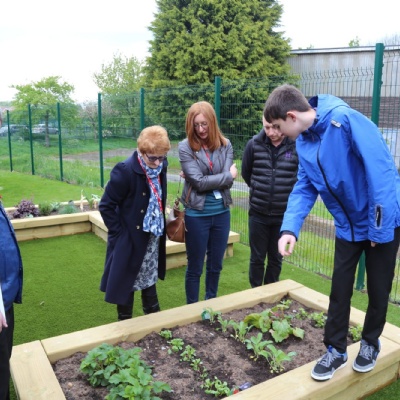 Special guests open the new Outdoor Learning Zone named 'Dawsons Den'
MacIntyres Discovery Academy opened their new Outdoor Learning Zone. The area has been designed to give the students a safe calm space they can relax, play and learn about nature.
The new Outdoor Learning Zone has been dedicated to Michelle Dawson who tragically lost her battle with cancer in October. She would often join the classes on trips to the allotments and help with the student to plant new flowers and vegetables.
A competition was held for the staff and students at Discovery to name the new zone and was won by Leah Wilson with her suggestion of Dawson's Den.
The opening of Dawson's Den was attended by Michelle's mother Sue, her wife Katie and brother Jamie. After cutting the ribbon Michelle's mother Sue said "It was a really beautiful place and Michelle would have been proud."
The principle of the school Mathew Pike said "Dawson's Den will forever be a part of Discovery Academy and is a fitting tribute to Michelle who inspired so many young people"